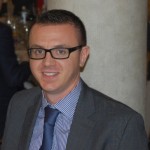 I was born in Pordenone, Friuli Venezia Giulia (Italy) back in 1982.
It has always been pretty clear to me that I am technical minded, so I started immediately on that path by following Electronics and Telecommunications studies during high school in Udine. When "all grown up" I graduated in Computer Engineering in Bologna.
Shortly after the graduation, I wanted to realise a childhood dream by visiting Australia. During a working-holiday period that was supposed to last just six months, I decided and had the fortune to migrate permanently to Sydney, where I have been living since 2006.
I have been the CTO and owner of InsightfulCRM Australia for few years, a consulting practice reselling and implementing CRM solutions. In 2014 my business got acquired by a global digital transformation company with headquarter in Sydney, Squiz.
I am currently working with SugarCRM where I spent few years as a Solutions Architect on the Professional Services Team, travelling all over the world wherever and whenever needed. I am now part of the Advise Team as a Principal Technical Advisory Manager, helping our customers world-wide with overall best practices from product specific technical details to project implementation recommendations, to development and deployments guidance, solutions design, performance optimisations and you name it.
On the little spare time I have, I like to build and play with new "things" mostly using embedded systems, building hydroponic gardening ecosystems, following some technical meetups, bush walking, fishing, traveling, watching movies and tv series.
Feel free to comment on my blog or get in touch with me either on the contact form or via any social media.
Enrico Simonetti